Tiba-tiba pengen nulis artikel ringan nih. Setelah sebelumnya nonton program acara di National Geographic Channel yaitu "The 80s : The Decade That Made Us".

Program ini menayangkan berbagai macam kenangan di tahun 80an; mulai dari teknologi, games, sampai dengan artis yang terkenal di zaman itu. Namun yang cukup menarik perhatian penulis adalah sebuah game berpredikat tak lekang oleh waktu, yaitu Pac-Man.
Thanks to Mr. Toru Iwatani, yang telah meracik game ini sedemikian rupa. Game yang cukup seru and so addicted.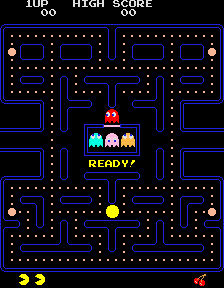 Nah serunya, kini Pac-Man telah hadir untuk sistem operasi Android. Langsung aja cekidot Google Play Store, search dengan kata kunci "Pac-Man". Atau pembaca bisa cekidot direct link-nya di sini.
Namun, bila pembaca ingin menjajalnya langsung tanpa perlu menginstal, abah Google sudah membuat Doodle Pac-Man 30th anniversary. Penasaran? Langsung cek tkp aja gan.
Adios.
Posted from WordPress for Android